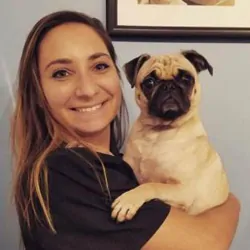 Dr. Sofia Miele
Dr. Sofia Miele was born and raised in New Jersey. After completing her undergraduate studies in animal science, Dr. Miele continued her education at the University of Missouri, graduating from veterinary school in 2015. Dr. Miele then moved back home to New Jersey and completed a one-year small animal rotating internship at Garden State Veterinary Specialists in Tinton Falls.
When not at work, Dr. Miele can be found cooking, playing soccer, watching the Yankees and relaxing with her three cats and two dogs – pug, Ducky and pit bull, Hendrix.

Dr. Michael Arpino
Dr. Michael Arpino was born on Long Island and grew up in Brooklyn. He majored in biology and chemistry at Wagner College, and he completed two years at the University of Arizona where he majored in animal science. After taking two years off, he attended veterinary school at St. George's University on the island of Grenada, followed by one year of clinical training at Auburn University in Alabama. Dr. Arpino also completed an intensive wildlife immobilization course in South Africa. Prior to working as a veterinarian in Staten Island, Dr. Arpino worked as an associate veterinarian at Riverdale Veterinary Group in the Bronx. He is the medical director of the Animal Health Group on the Boulevard, the Animal Health Group on Castleton Ave. in Staten Island and the Veterinary Wellness Center of Boerum Hill.
Dr. Arpino enjoys traveling the world, going to church, hiking, golfing, spending time with family and good friends. Most of all Dr. Arpino is a very proud daddy to his little princess, Olivia Autumn. On their days off, they go to the zoo, aquarium, museums and for walks in the park.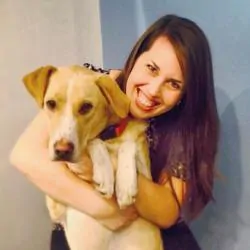 Dr. Lisa Sether
Dr. Lisa Sether was born and raised on Long Island. She attended Elizabethtown College in Pennsylvania and majored in biology. After graduating, her dream of studying abroad became a reality when she was accepted to veterinary school at Ross University on the island of St. Kitts in the West Indies. She completed her clinical training at Auburn University in Alabama. While in veterinary school, she participated in an intensive volunteer spay and neuter trip to Guatemala, Central America. Dr. Sether is certified to perform stem cell therapy for certain ailments on your furry pets. In her spare time, Dr. Sether enjoys cooking, shopping, traveling, and spending time with her family, friends, and dog, Luna!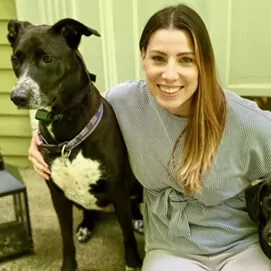 Dr. Jessica Moreira
Dr. Jessica Moreira received her Bachelor of Science from Drexel University in June of 2009. Her passion for medicine and the human animal bond took her to the island of Grenada following her undergraduate career where she attended Saint George's University School of Veterinary Medicine. She completed her clinical year at the University of Georgia School of Veterinary Medicine and was awarded her veterinary degree in June of 2013. Following graduation, she completed a one-year internal medicine and surgical internship at Garden State Veterinary Specialists. Since her internship, Dr. Moreira has gained experience in working with exotic animals and has a deep-rooted passion for working with small mammals. She has also worked in both emergency hospital settings caring for the most critical patients and veterinary hospitals as a general practitioner. Her clinical interests are emergency and critical care, nutrition, internal medicine and oncology.
Dr. Moreira is a New Jersey native who grew up with a large Portuguese family. She loves to travel and has a love for the Portuguese language. She enjoys spending her free time with her husband and daughter, and of course her animals. She also enjoys running, fundraising for charities, kickboxing, and Crossfit.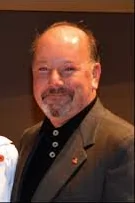 Dr. Antonio Miele
Born in Newark, New Jersey, Dr. Antonio Miele graduated with Bachelor of Science degree from Saint Peter's College in 1972. Following his love for animals, he graduated from the University of Naples, Italy, with a degree in Veterinary Medicine and Surgery in 1980. Dr. Miele's first year of his veterinary career was spent working at Yonkers and Meadowlands Raceway, and he subsequently worked in small animal practices in the New York City area. In 1985, Dr. Miele opened his first animal hospital in Bensonhurst, Brooklyn. His innovative concept of a team approach in the formation of animal hospitals let to the coining of the term veterinary groups, which sought to stress the team concept.
Founded with the purpose of creating a team of highly trained individuals, each with different strengths, the group fostered an atmosphere for individuals to work collectively and synergistically, leading to the creation of practices offering diverse and specialized services. This group concept was so successful that Dr. Miele, along with his partners and associates, opened 14 other hospitals in the New York City area.
Dr. Miele's dreams of returning to the country where he was trained were realized in 2005 with the opening of the Ospedale Veterinario Ardeatino 24 ore in Rome, Italy. His group approach to veterinary medicine made the Italian hospital one of a kind, a fusion of the Italian and American cultures of medicine, technology, and management. The collaboration and exchanges, both medical and cultural, have already benefited the veterinarians and the patients on both sides of the Atlantic. A television reality show, Pet Hospital will air next fall on Italian Fox TV, featuring the staff of the GVR (Gruppo Veterinario Romano). With the addition of the Ospedale Ardeatino, the intercultural exchange of language and medicine has finally found a bridge.
Dr. Miele has received numerous accolades including the Metropolitan New Jersey Veterinary Medical Association Veterinarian of the year award, New York Veterinary Medical Society's Presidential Citation as well as the first Brody award given by the Center for Animal Care and Control. He has served on many executive boards including the New Jersey Veterinary Medical Association, New York City and State Veterinary Societies. Continuing his passion for living and working on both sides of the ocean, Dr. Miele is a lecturer at his Alma Mater, the University of Naples, lecturing on Business Management.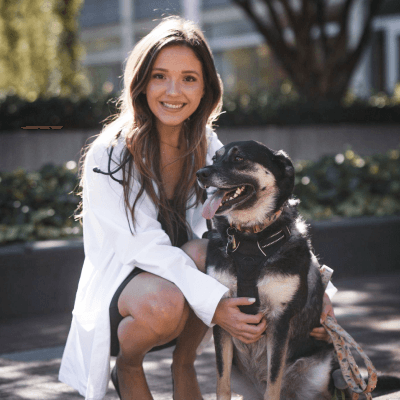 Dr. Samantha Colón
Dr. Colón began her career in veterinary medicine as a Veterinary Assistant and graduated with her B.S. in Biology from Wagner College. She went on to earn her DVM degree from the University of Pennsylvania School of Veterinary Medicine before joining the team at Animal Health Group. A native of Staten Island, NY, Dr. Colón grew up surrounded by animals and knew she wanted to become a veterinarian at the age of four. Prior to earning her DVM degree, she volunteered at the Staten Island Zoo and spent many hours shadowing at veterinary clinics. 
Dr. Colón is dedicated to the idea that first and foremost, a veterinarian should be their patient's advocate. She is proud to be Fear Free certified, and reducing the amount of fear and stress her patients may feel during a visit is central to her approach to medicine. She is also particularly interested in dermatology, internal medicine, and animal behavior.
When she's not working, Dr. Colón enjoys going to the beach, shopping, dining out, and spending time with her family and friends. She currently has a beloved German shepherd/Labrador retriever named Sawyer. True to her Labrador heritage, Sawyer will do anything for food. Dr. Colón likes to include her sweet pup in as many of her outings and adventures as possible and brings her along to as many places as she can.