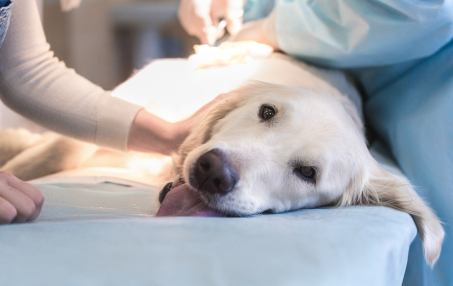 Pet Surgery
High-Quality Pet Surgery
Keeping pets healthy and happy with the utmost of quality veterinary care is our mission and pet surgery is a big part of that.
We offer animal surgery, including everything from spay and neuter to senior pet care procedures, with superior skill. Learn how Animal Health Group, the number one veterinarian in Staten Island, also serving Bayonne, serves you and your pet with our affordable pet surgery programs.
Spay and Neuter Clinic in Staten Island
We offer a complete range of pet surgery services with spay and neuter as the most common. Dogs must be less than 1-year-old and all pets must be up to date on vaccines to qualify for this plan. Removing your pet's reproductive organs eliminates the chance of certain reproductive cancers as well as offensive behaviors such as spraying and marking. We are also committed to serving our community by spaying and neutering as many pets as possible to help reduce the numbers being admitted to shelters every day.
Additional Animal Surgery
If your pet needs any kind of surgery, we are equipped to handle it, including eye surgery, tumor removals, and other types of surgeries.
Senior Pet Care Surgery
Pets heading into their golden years see more frequent health problems arise, some of which require surgery. To catch any such problems early, we advise that our senior pets be seen on a more frequent basis; we also offer Adult Pet Screening Clinics. This specially priced physical package is available to each healthy pet once and includes a complete workup. When seniors need surgery, the types we most often perform include tumor removals, urinary tract surgeries, dental surgeries and orthopedic surgeries.
Pet Surgery and Anesthesia
A common worry among owners is about the use of anesthesia on their pets. Anesthesia is proven to be safe and has few if any, side effects and the products we use are best available. We also constantly monitor your pet throughout the entire surgery with our modern tools and equipment.
It is necessary that all patients be up to date with all necessary pet vaccines. For all pet owners, your veterinarian in Staten Island, also serving Bayonne, offers high-quality surgical services to keep pets healthy with the finest veterinary care in the area.