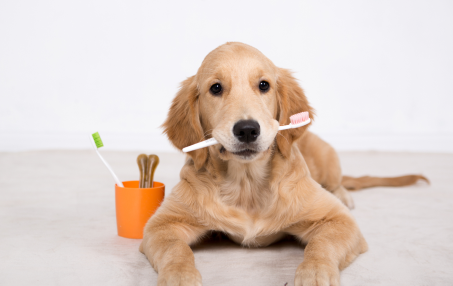 Pet Dental
Pet dental care is important for dogs and cats. Pets need to have their teeth cleaned professionally and at home to avoid dental disease and tooth loss. As a pet owner, you can help take care of your pet by brushing his or her teeth and by taking your pet to the veterinarian for regular dental checkups. At Animal Health Group in Staten Island, we provide examinations, teeth cleaning and other pet dental services to pets of the community.
Signs of Pet Dental Disease
The following symptoms are an indication that your pet is suffering from dental disease:
Very bad breath.
Red, inflamed gums.
Cracked, loose or broken teeth.
Discolorations on the teeth and gums.
Bleeding gums.
We recommend inspecting your pet for these symptoms on a regular basis. If your pet shows symptoms of dental disease, contact your pet's veterinarian in Staten Island and Bayonne for dental care.
Offering a Range of Dental Services for Pets
At Animal Health Group, we offer a range of pet dental services, including:
Dental Examinations. During our dental examinations, we'll inspect your pet's teeth and check for problems like plaque buildup and dental disease. Getting your pet's teeth inspected annually can help catch dental problems in their early stages.
Pet Teeth Cleaning. During a dental cleaning procedure, we'll clean your pet's teeth, remove plaque and polish the enamel. Getting your pet's teeth cleaned by the veterinarian can help keep your pet's teeth slick and shiny, preventing food particles from sticking to the enamel.
Cavity Fillings. We offer cavity fillings to stop tooth decay and prevent toothaches.
Tooth Extractions. Sometimes despite our best efforts, pets develop tooth infections. We can help by extracting the tooth and ridding your pet of tooth pain.
Perform Pet Teeth Cleaning Procedures at Home
You can help your pet maintain healthy teeth and gums by brushing your pet's teeth and giving your pet tooth-cleaning chew toys. Ideally, you should brush your pet's teeth every day but if you are unable to, even brushing your pet's teeth once per week can help your pet avoid dental disease.
Your pet will need pet-formulated toothpaste and a toothbrush for animals. If you've never brushed your pet's teeth before, you may need to train your pet to accept tooth brushing. At Animal Health Group, we can answer your questions about this type of training and show you the best way to brush your pet's teeth.
Contact Your Pet's Staten Island Veterinarian
Dental care can help your pet avoid tooth pain and infection. As your pet's community veterinarian, we're your source for Staten Island pet dental care. We offer a range of services to help your pet maintain healthy teeth and gums. For more information about cat and dog teeth cleaning and other dental services, contact us today.
Periodontal Disease in Pets
Periodontitis is the most serious form of oral disease affecting humans and pets. When left untreated, a periodontal disease usually leads to extensive tooth loss, painful gum infections and jawbone weakening in pets and people. To reverse periodontitis in cats and dogs, your Staten Island vet removes hardened plaque and tartar on teeth, treat pockets of infection at the gum line with antibiotics and extracts loose or badly damaged teeth. Scaling and root planning is another treatment for periodontitis in pets that works to deep clean teeth and gums using ultrasonic devices and irrigation techniques. Following a scaling and root planning treatment, your vet may prescribe antibiotic medications to reduce the risk of recurring periodontal disease.
Signs of Periodontal Disease in Pets
The earliest sign of periodontitis in pets is chronic bad breath that can be detected without your pet opening his mouth. As the disease progresses, your pet may start:
Salivating excessively/have a constantly wet chin (drool may be mixed with blood if abscesses exist or gums are infected)
Avoiding crunchy food or try to eat kibble without success
Appearing lethargic or depressed
Neglecting to groom their coat
Having a discharge from their nose or eyes
Sneezing frequently
Losing weight
Cats and dogs with mild or moderate periodontal disease may continue grooming themselves, which will give their fur a constantly foul odor. Also, if a bacterium from a periodontal infection reaches an animal's bloodstream, the animal could suffer high fever, diarrhea, and vomiting indicative of sepsis, a serious medical condition requiring immediate treatment from your Staten Island veterinarian.
Antibiotic Therapy for Pets with Periodontal Disease
Local antibiotic therapy is another type of periodontal treatment involving controlled applications of anti-microbial solutions by your vet directly on infected areas of the gums. One advantage to local antibiotic therapy is the ability to rapidly treat bleeding, inflamed gums and eliminate bacteria. Additionally, this therapy does not cause side effects associated with systemic antibiotic use, especially gastrointestinal disturbances. Localized antibiotic therapy provides excellent results when used after a scaling and root planning procedure before bacteria have a chance to accumulate on dental enamel and at gum lines.
Consequences of Untreated Periodontal Disease in Dogs and Cats
Tooth pain, swelling/abscesses, difficulty eating and swallowing, blood infection and loss of teeth are the main consequences of neglecting to reverse periodontitis with professional dental care from your Staten Island veterinarian. To help prevent periodontal disease from affecting your pet, your vet offers pet teeth cleaning, cavity filling and tooth extraction services to ensure your pet enjoys excellent oral health.
To learn more about periodontal disease in pets or to schedule a dental examination for your pet, please call our Castleton Ave. office at 718-448-3680 or our Hylan Blvd office at 718-980-6491.
If you are a new client, ask about receiving a 20 percent discount on your pet's first office exam.
Pet Dental FAQ
Pets need dental care just as much as people. Pet owners hoping to help their pets avoid pet dental disease should bring their pet to the veterinarian on a regular basis for an examination and teeth cleaning. At Animal Health Group, we do our best to help pet owners understand their role in their pet's dental health. Below are some of the most common questions that pet owners ask us about their pet's dental care.
What can the veterinarian do to care for your pet's teeth?
At your pet's animal hospital in Staten Island, we provide the following dental care services to pets:
Dental Exams. Our dental exams check your pet's teeth for tartar and plaque buildup. If we find evidence that your pet is suffering from dental disease, we'll make recommendations for treatment.
Dental Cleanings. Our pet dental cleanings remove plaque and tartar buildup, polish the enamel and clean the teeth above and below the gum line.
Tooth Extractions. Sometimes we must remove infected teeth to prevent the spread of infection throughout the body.
How often should your pet get dental care from the veterinarian?
Pets need to see the veterinarian at least once annually for a dental examination. Most pets will also need to get their teeth cleaned at least once annually. Young pets may not need to get their teeth cleaned once each year, but by the time they reach an older age, they usually need a cleaning at least once per year. Pet owners are encouraged to talk to their pet's veterinarian for information.
What can happen if your pet doesn't get regular dental care?
Pets who do not get regular dental care can suffer from periodontal disease, infection and can lose their teeth.
What are the symptoms of periodontal disease?
Pets with periodontal disease will display the following symptoms:
Very bad breath
Red, inflamed gums
Bleeding gums
Missing, cracked or loose teeth
Reluctance to eat
Pain from eating
What can pet owners do to provide pet dental care at home?
Pet owners should brush their pet's teeth each day. Pet owners should also regularly check in their pet's mouth for signs of periodontal disease and bring their pet to the dentist if needed.
Can human toothpaste be used to clean a pet's teeth?
No, human toothpaste cannot be used to clean a pet's teeth. Pet stores sell dog and cat formulated toothpaste.
What should you do if your pet refuses to allow his or her teeth to be brushed?
Pets need to be trained to accept tooth brushing. If you're not sure how to train your pet for teeth brushing, talk to your pet's veterinarian.