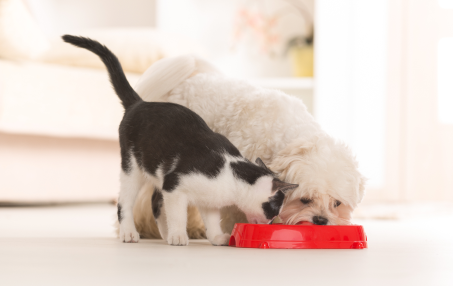 Nutritional Counseling
Pet Nutrition Information
There's no denying that pets love to eat. Unfortunately, they don't always care what it is they're eating, nor do they pay attention to portion sizes. Your pet needs the proper nutritional mix and dietary balance to steer clear of serious health challenges at various stages of his life. That's why Animal Health Veterinary Group and our trusted Staten Island veterinarians are proud to offer pet nutrition services for dogs and cats.
Nutritional Considerations for Dogs and Cats
All pet food may look alike to humans, but it's very important to make sure you're not feeding dog food to your cat, or vice versa. Each of these animals has its own specific nutritional requirements regarding protein, fats, vitamins, minerals, and amino acids. For example, both dogs and cats need a certain amount of the amino acid taurine — but while dogs can manufacture this amino acid internally, cats from getting it in ready-made form from their food.
Your pet will also have different nutritional needs at different times in his life. Growing puppies and kittens may need 4 meals a day when they first start eating sold food, tapering to 3 meals and then 2 meals during their first year. Adults generally need only 2 meals a day. Your pet may need even less food in his senior years since he won't be as active. Sedentary pets are especially prone to obesity, a dangerous condition that can contribute to cancer, hypertension, diabetes, organ failure and osteoarthritis. some animals who already have systemic diseases may require specialized diets to help them avoid (or get more of) certain key ingredients.
A Lifetime of Nutritional Guidance
Any vet on our experienced team can provide nutritional counseling to help your pet stay healthy. Your veterinarian will weigh your pet during annual wellness exams to check to see if he needs to slim down. We will advise you on which foods to buy for your pet, how many servings to feed him, and smart practices such as keeping him away from human food (which lacks the proper nutritional mix and can even prove toxic to your pet).
If your pet is struggling with a specific condition, nutritional and dietary adjustments can make a big difference for the better. We can recommend anti-inflammatory foods and supplements to reduce chronic pain or put your pet on a special diet to help him cope with diabetes, high blood pressure, organ diseases or allergies.
Help Your Pet Eat for Health – Schedule a Pet Exam with a Staten Island Veterinarian
Take the logical first step in helping your pet eat for health. Call either of our locations to schedule nutritional counseling! Our Staten Island veterinary clinic team is dedicated to helping you get your pet's nutritional health back on track.