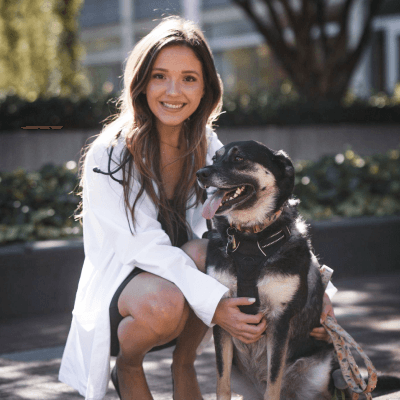 Dr. Samantha Colón
Dr. Colón began her career in veterinary medicine as a Veterinary Assistant and graduated with her B.S. in Biology from Wagner College. She went on to earn her DVM degree from the University of Pennsylvania School of Veterinary Medicine before joining the team at Animal Health Group. A native of Staten Island, NY, Dr. Colón grew up surrounded by animals and knew she wanted to become a veterinarian at the age of four. Prior to earning her DVM degree, she volunteered at the Staten Island Zoo and spent many hours shadowing at veterinary clinics. 
Dr. Colón is dedicated to the idea that first and foremost, a veterinarian should be their patient's advocate. She is proud to be Fear Free certified, and reducing the amount of fear and stress her patients may feel during a visit is central to her approach to medicine. She is also particularly interested in dermatology, internal medicine, and animal behavior.
When she's not working, Dr. Colón enjoys going to the beach, shopping, dining out, and spending time with her family and friends. She currently has a beloved German shepherd/Labrador retriever named Sawyer. True to her Labrador heritage, Sawyer will do anything for food. Dr. Colón likes to include her sweet pup in as many of her outings and adventures as possible and brings her along to as many places as she can.